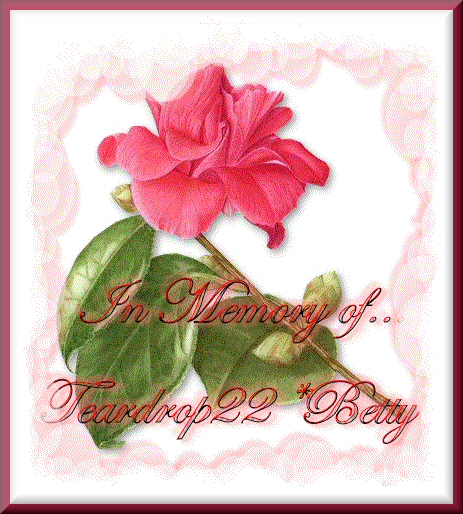 Betty passed away on Febuary the 24th at 4:30pm. She was suffering with the flu and had fluid in her lungs. She was to see her son that week. Betty talked with us prior to her passing and said she would be gone for a few days and that she needed to rest and get better with the help of her medication her doctor gave her to bring her immune system up to normal. At that point her immune system was dangerously low and was ailing with skin peeling off her face. If the medication did not work soon the doctor was going to put her into the hospital under observation. Betty believed in her doctor and thought he was the best in the state. In her post she expressed that she was scarred and needed our prayers. We prayed and thought of her strongly as we waiting her return back in hoping she was going to be better. Betty never returned! I (Fifi) wrote her son Jason and asked when he was going to see his mom again. In his return letter that I received on the 18th of April explained his mother passed away and to let the moms know. He also expressed that she was so young and that they had a lot planned when he got out of prison. Jason feels everything around him is dying and that he misses his mom terribly. He also has lost hope. Betty e-mailed me a few times and expressed how she felt about her son and that she wanted to know if anyone was writing Jason. I told her that moms were and that semmed to make her feel a lot better. She did not complain nor talk about herself much. But knowing Betty in the short period of time has brought me closer to her even though we had not met. Betty will be truly missed and thought of dearly for all she wanted was someone to be there for her son. God Bless You Betty... you were not a selfish women but yet had a lot of health problems and still kept your chin up. Don't worry Betty.. there are lots of moms at DearestMom to keep contact with your son for you until you and your son meet again. ... more about this warm hearted women will be added to this page soon..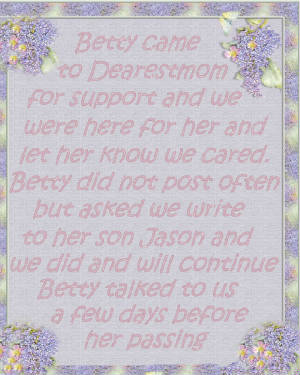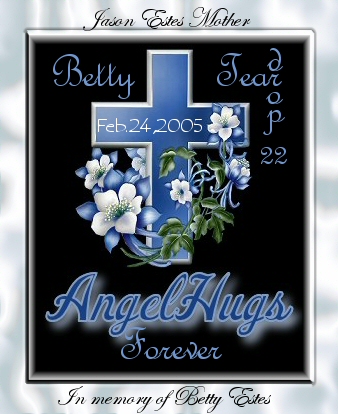 On Thursday Night at 8:00pm est. April 21st .. please meet here at this site.. for 5 minutes of silence and light a candle in Betty's Memory.

Betty Jean Estes
May 19, 1950 - February 24, 2005
Middletown, OH
Betty Jean Estes, of Carlisle passed away on Thursday, February 24, 2005 at her residence. She was born in Middletown, OH on May 19, 1950. Surviving are her husband, Gary; Sons, Gary Estes Jr. and Jason Estes both of Carlisle, Mark Estes of Franklin; two grandchildren, David and Jessica. Funeral services will be at 10:00am on Monday, February 28, 2005 at the Cross and Crown Christian Assembly on Dayton Oxford Road in Carlisle, OH with Rev. Bobby Maggard officiating. Burial will be at Woodhill Cemetery in Franklin. Visitation will be Sunday, February 27, 2005 from 2:00-5:00 pm at the Anderson Funeral Home, 40 North Main St., Springboro. Please visit
www.andersonfuneralhome.com
to share a memory in the family guest book. There no longer is a family guest book..... I checked!
Hello
Everyone.. I have started a new thread at my DearestMom Emergency Archive Message Board for all of you to post your message to her family and for members.. click here to go to messgae thread to see further explaination and to enter your message.. Thank You ..
Hugs Angelgirl
---
http://www.instantmessageboards.com/viewtopic.php?t=631537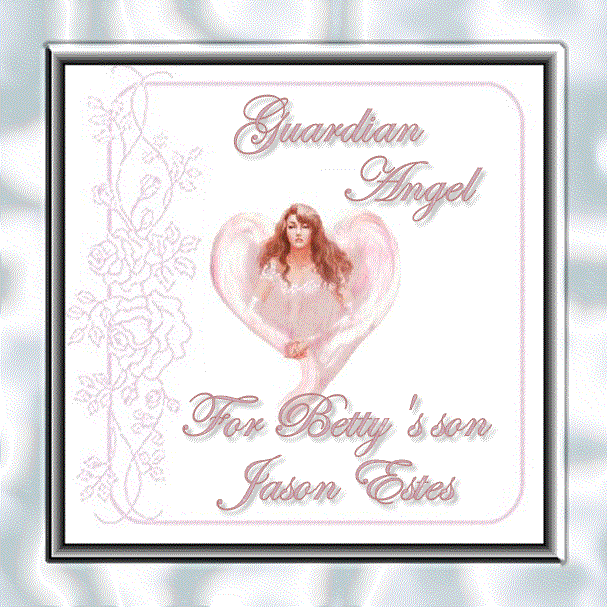 An Angel Appeared
I was sad and all alone,
The worst feeling I had known.
I felt a hand reach out to me,
Somehow set my spirit free.
I looked to see who was there.
There was no one standing there.
I thought I'd felt a feathery wing,
Thought I heard an Angel sing.
I felt a soft warm breeze,
As my pain began to ease.
I had a feeling I was not alone.
The strangest feeling I had known.
In the darkest hour an Angel appears,
Gently caressing away my fears.
I must be protected by an Angel's love,
God sent down from up above.