Haunting Links For You!
Keep Going!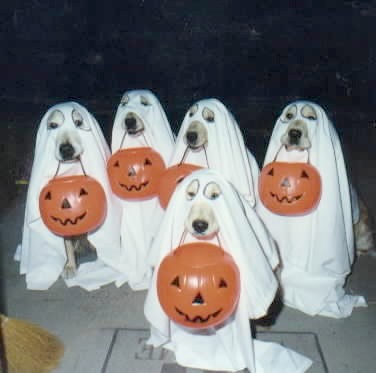 New York's Willage Halloween Parade 2003
Un-Real Estate Listing

by Terry Lerdall-Fitterer
I answered an ad in the paper this morning
while reading about an old house up for sale,
the realtor gave me a premature warning
by saying all efforts to sell it had failed.

I drove out to look and it gave me the willies,
it's eerie appearance was ghoulish to see,
my knees started knocking, I felt, Oh, so silly!
So what if it's haunted, how bad could it be?

I opened the lock with the key I was given
and fought with the cobwebs encasing the door,
it needed repair before one could start livin'
inside of this virtual 'chamber of horrors'.

The rats in the parlor were happy to see me-
the glare in their eyes quite attested to that;
upstairs in the bedroom a coffin lay neatly
and guarding the box was a mangy, black cat.

I ran down the hall to a huge lab'ratory
where beakers were bubbling all over the place
and bats were a swoopin' in all of their glory-
I swear, one of them had Count Dracula's face!

I raced down the stairs and flew into the kitchen
and saw that the garden was filled with headstones,
there wasn't a doubt that this place was bewitchin'-
the noises it made must be rattling bones!

A telegram sat on a desk in the entry,
I thought the house vacant-who'd possibly sign?
the mystery itself, was a bit elementary
right after I read it was to: Frank N. Stein.

I dashed for outdoors, where the wind became colder
and didn't look back, but I glanced to the side,
the neighbor next door had two heads on his shoulders
both bearing resemblance to Jekyll AND Hyde!

Convinced that the joint would need much exorcising
I fled to my car just as fast as I could
then stepped on the gas, the speedometer rising,
my days of house-hunting were over for good!

I never returned to that 'nightmare on Elm Street'-
the scariest neighborhood I'd ever seen,
recalling it now turns me white as a bedsheet
and memories still haunt me on each Halloween.





After Great Pain,
A Formal Feeling Comes
by Emily Dickinson
After great pain, a formal feeling comes--
The Nerves sit ceremonious, like Toombs--
The stiff Heart questions was it He, that bore,
And Yesterday, or Centuries before?
The Feet, mechanical, go round--
Of Ground, or Air, or Ought--
A Wooden way
Regardless grown,
A Quartz contentment, like a stone--
This is the Hour of Lead--
Remembered, if outlived,
As Freezing persons recollect the Snow--
First--Chill--then Stupor--then the letting go--

"Where Danger Looms"

by RL Irving
From the "Halloween Tales" Website

When the darkness falls and danger looms,
werewolves howl at shiny moons
Dogs run scared and bats take flight,
flying off to the still of night
You're walking down deserted streets,
not knowing yet the things you'll meet
Whispers echo from every door,
begging you to come no more
Footsteps heard on the steps of stairs,
taunting you with stench filled air
You start to run, you try to escape,
your heart and breaths just can't keep pace


You run through the streets, screaming in fright,
but no one hears you this Halloween night
Then suddenly, through the mist filled air,
a shape appears with long grey hair
A woman with a crystal ball,
where lightening flashes through it all
Beckoning with her toothless grin,
"Come closer now" and look within
A tiny movement, a careless act,
will take you where you can't come back
But the beauty of the ball wins out,
you move closer now with stinging doubts
Forgetting the danger you look inside,
revealing the secrets it strains to hide


The paperboys scream "Man found dead"
working all day, their feet like lead
The woman listens with a knowing grin,
the secret she holds close within
Waiting for the next full moon,
she walks the streets where danger looms
Humming a song no one can hear,
she clutches a ball she holds so dear